Vintage Thunderbird Sales & Service



"Thunderbird" Spoken Here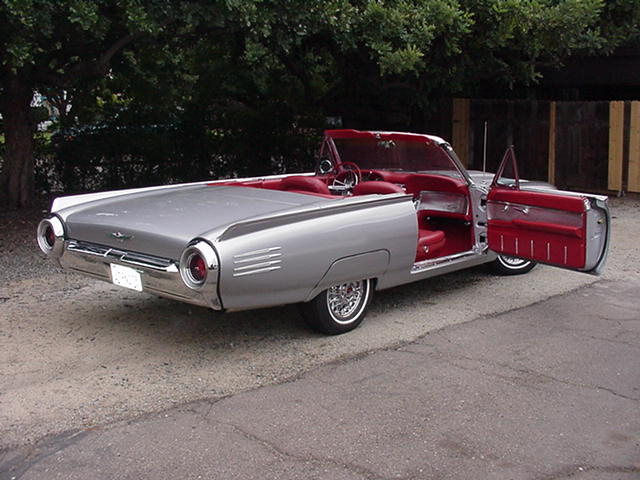 1961 convertible I restored for a client that I received in pieces, finished in 2002 and featured as car of the month on popular website
Thunderbirds And More!
A Brief History
I started taking things apart when I was 1 and somehow managed to get them back together. High school auto shop junkie. 4 years in the Navy as a diesel and gas motor mechanic in the Vietnam era and in Vietnam servicing small boats during that "conflict". IBM employee 30 years until retiring in 1996 with 24 of those years repairing office equipment and 6 years in staff positions and as a problem/change management consultant. Started flying 1972 and became an flight instructor in 1974. Currently own and maintain a 57 Beechcraft Bonanza. I started restoring Thunderbirds in 1975. I have owned perhaps 150 or so - currently I have a 58 hardtop, the last known production 58 convertible, a 59 430 powered convertible, a 60 convertible I have owned 29 years, a 60 convertible with 3spd overdrive transmission, another 60 352 convertible project, the highest vin production 60 Thunderbird, three 60 hardtop project cars and a 58 hartop project car. Also restored some 55-57 Chevy pickups, several 1964 Pontiacs. Besides my interest in Thunderbirds I also have a 1958 Lincoln convertible, I restored a 1958 Buick Century Caballero station wagon, and drive an original 1964 Shelby 289 dual-quad powered Cobra, CSX 2277. Weened off of most of my motorcycles I am down to one Kawasaki 1600 Classic. Married to Mary for 48 years and have 2 children and 5 grandchildren and 1 great-grandchild. Became involved with the VTCA/VTCI and in 1988 appointed Concours Director and Chief Judge of the Vintage Thunderbird Club International and for 11 years I trained judges, organized the judging events, and wrote and maintained the VTCI Concours Rule Book. Currently I am maintaining and restoring Thunderbirds for local San Diego Thunderbird owners and I own an auto export business with service worldwide. President of the San Diego 'Wunderbirds' VTCI Chapter.
California Dealer-Licensed & Bonded
Many references available upon request!
Contact Ken's Klassics
Ken Harkema - Owner
9405 Barbic Lane
Spring Valley, CA 91977
Phone: (619) 462-6478 Fax: (619) 469-0670
Copyright © 2005. Ken Harkema. All Rights Reserved.